Programmatic to turn around a Covid-19 impacted sales funnel
The Brand
The brand is a leading, fully integrated real estate developer, based in India. The brand develops and sells high quality residential and commercial properties.
2020 Lockdown impact
The lockdown due to Covid-19 had impacted the brand's business adversely:
Negative sentiment of home buyers.
Inability to enable site visits for prospects.
Inability to build awareness & recall for new customers because of the lockdown.
The Problem Statement
Enhance reach

amongst potential home buyers, going beyond the traditional search and social channels.

Improve consideration

for the brand & therefore significantly move brand search.
Measurable increase in leads

attributable to

branding spends.
The Solution Components
The solution was driven by using Google Marketing Cloud (DV360), by carefully selecting 2nd party and 3rd party audiences.
The strategy was to:
Deploy Google Marketing Cloud (DV360) targeting the top and middle funnel. This was because the down funnel lead nurturing and conversion campaigns were already working well. The objective was to get more home buyers in a tough real estate market.
Deploy unique audiences by working with Oracle Bluekai and Lotame.
Deploy floodlight tracking in order to ensure the right attribution is in place.
Tied up with premium publishers, negotiating attractive reserve buys.
Improvised on ad-formats such that form fill rates would be higher than the conventional landing page form fill rates.
The solution components are shown schematically below.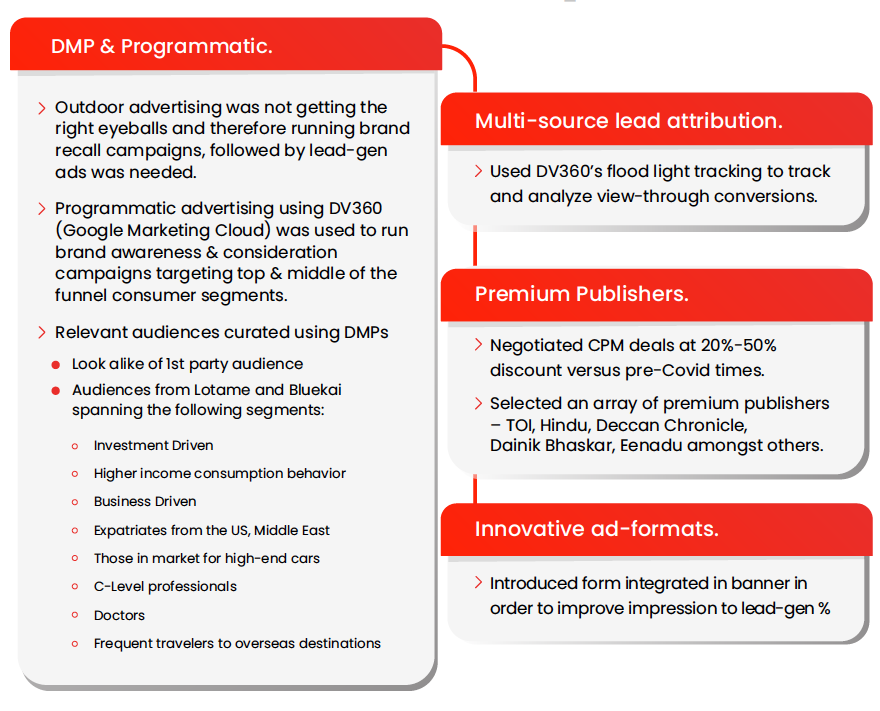 Results delivered using programmatic advertising
The results exceeded expectations. We moved beyond pre-Covid organic lead #s by over 25%. The high level results delivered were:
25%+ increase in organic leads (versus pre-Covid levels)
Brand name searches grew 2x (versus pre-Covid levels)
View-through conversions at $10-$12/lead which was better than the usual CPLs.
Read more, or get in touch with our programmatic team to learn more.