Scaling revenues on Amazon: 3x in 3 months
This case study is about our work on driving e-commerce sales for a leading consumer goods (packaged food) brand, which scaled multi-fold on the Amazon marketplace in a short period of time. Noteworthy was that the brand decided to ride the wave of consumer movement to digital during the Covid led lockdown.
About the brand
It is India's largest organic food brand and brings the full grocery basket from farm to fork. The brand partners with over 60,000 organic farmers across India for its range of over 200 products. All of the products marketed by the brand are certified organic by USDA and other leading authorized Indian and International institutions. The brand is a dominant category leader in the markets and segments it operates in.
Why was Amazon the most important e-commerce channel for the brand?
Amazon is now the #1 website where users start their product research, as per Comscore My Metrix & Key Measures data, Jan 19. Also, according to one Nielsen study, 89% of the visitors on Amazon.in actually come looking to discover new products and brands.
Acquiring new customers for an ever-widening SKU of products.
Increasing the share of wallet amongst the existing users of the brand.
The Amazon advantage
Amazon.in offered the following set of advantages.
Captive audience who already have a strong intent and interest in organic products
Wide reach (All serviceable Pin Codes in India) with more than 150 mn customer accounts
74% of Indian shoppers (online or offline) visit amazon.in during their online research journey.
How to win on Amazon? Our strategy.
Amazon search is just like google search driven by Smart Algorithms. Just as we have to improve SEO to come up on top of a web page we need to master the A9 algorithm for Amazon A9 is the Amazon's product ranking algorithm which displays the results based on the queries or keywords or key terms entered in its search box. The results shown are fuelled by customers' past purchases, shopping preferences, and a few other factors.
Factors considered in the A9 algorithm

What did we do for the brand?
We got the brand listings on Page 1 of Search Results as 75% of the Customers don't consider products beyond the first page. More detail about our methodology is described below.
We developed a two-pronged approach and a corresponding comprehensive plan of action:
Identified changes that improve organic visibility in searches related to categories we operate in by leveraging each of the factors in the A9 algorithm. See the table below for details.
A tailor-made Amazon Ad strategy was developed together with other promotional initiatives to increase the brand's visibility with prominent placements throughout the customer's journey while delivering best return on investments (measured by ACOS).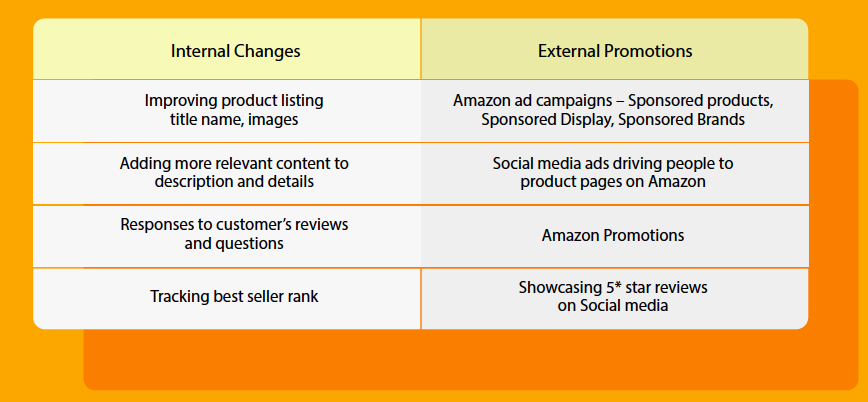 Content creation for the Amazon
We combined relevant consumer insights, analysis of competing products across the categories, proprietary historical campaign data, and innovative technology to create user-friendly and keyword-rich content for better visibility and higher ranking. Further, we also developed a branded store page that showcases all product categories in one single place.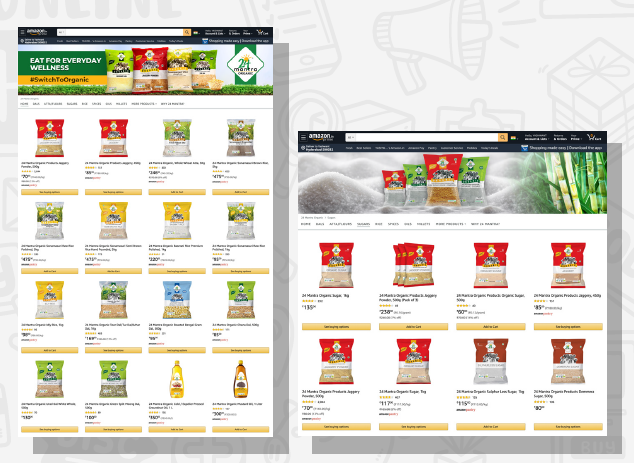 Amazon Ads Strategy
We created a customized ad campaign strategy grounded in insights on keywords searched by users as well as on learnings from a detailed analysis of best-selling products in each category. Amazon ad campaigns across the 3 formats of Sponsored Products, Sponsored Display and Sponsored Brands were leveraged to create more opportunities for connecting with the brand. This approach helped us extend the brand and product story to millions of customers on Amazon.in and we were also able to provide them a deep experience through our dedicated category pages in the brand store as well as enriched product pages.

Demand and inventory planning
GenY developed a hyperlocal scorecard to track the availability of top 25 SKUs across 2 pin codes in each of the metro cities. This tool helped the Modern Retail Supply planning team with avoiding stock-outs and also with securing new purchase orders from Amazon well in time resulting in better case fill ratios.
Results delivered
3x times growth in new to brand user acquisition

ROAS of 10.7

vs category benchmark of 7

Conversion of 55%

vs. category benchmark of 32%

Organic ranks

for SKUs across all the major categories

improved

leading to higher sales,

+100% in

3 months

since we activated their Amazon marketing plans.