What is DoubleClick Bid Manager and how can it help you?
DoubleClick Bid Manager (DBM) is Google's programmatic advertising platform, now renamed as Google Display & Video 360. In advertising jargon, it is a Demand Side Platform (DSP) that interacts with multiple Ad Exchanges (Google Ad Exchange being one of them). It makes tremendous business sense to use the tool, as your campaigns can potentially use inventory from more than 100 Ad Exchanges to reach over 1 billion websites. Here are the key features that make it a great tool in a digital advertiser's arsenal.
Extend your brand's reach, significantly, beyond the Google Display Network
In your assessment if you believe that you have exhausted the potential which exists on Google Search and Google Display Network and you are looking for more, then DBM is the answer. The inventory of websites available via Google Display Network is just one among the hundreds of Ad Exchanges present in DBM. This implies more access to websites to advertise. Some of the key ad exchanges that you can choose are highlighted below. For example, AppNexus is one of the leading ad exchanges for digital marketing with over 34,000 publishers in their marketplace. They have over 11.4 billion impressions transacted every day!
Measure ROI of Branding Campaigns across multiple channels
DBM uses what is referred to as "Floodlight Pixel Tracking" across platforms and prevents cross-channel conversion funnels from counting conversions more than once. Therefore, instead of measuring conversions from multiple different platforms, you get a set of integrated metrics for all the platforms being used for advertising via DBM.
The added advantage is the presence of Post View Conversions which help in measuring the impact of your branding campaigns. As the name suggests, post view conversions track all leads that came in after viewing the ads even if users haven't clicked on the ad. It has been an eternal struggle for marketers to showcase the ROI of spends in branding. In this case, you can measure not just direct conversions (leads from last click) but also how viewing your ads aided in increasing your count of leads.

Being programmatic in nature, the engine works on optimizing your campaigns overtime to get you lower Cost per Impressions or Conversions depending on your goal settings.
Use premium properties via Private Deals with Publishers
Apart from the public ad-exchanges present in the DBM arsenal, you can get the option to strike "Private Deals" with various publishers via the Marketplace. A common example is inventory via news publishers like The Washington Post, Times of India, Dainik Bhaskar, Money Control, etc. A question might arise that you can do these deals directly with them as well, but there are multiple reasons why running these via DBM is much more beneficial than cracking a direct deal with them. You can read about this more in our other blog here.
There are various categories of publishers available across multiple verticals. It is possible to get the inventory size by geography, demography (age, gender), vertical, ad type, ad sizes, etc for you to evaluate the best option for your business.
A wide variety of creative options
You also get the option of using a variety of ad formats instead of sticking to the conventional display formats. This helps when you want to showcase multiple features about your product/ service and create a much better recall of your brand than simple Display Ads.
Integrate and leverage your first party Data
The above list should be enough to convince you to explore using DBM, but here is one more which makes it extremely useful as a marketing platform. You can add your First party data (audience from CRM or remarketing tags) to create Custom Audiences and it goes beyond just advertising to these audiences. You can overlay your first party data over the audiences available in the ad exchanges or publishers and get more out of it. For e.g., you wouldn't want to show your ads to people who have already purchased your product. With DBM, you can achieve that while showing ads on multiple publishers and excluding the list of your customers from the targeting.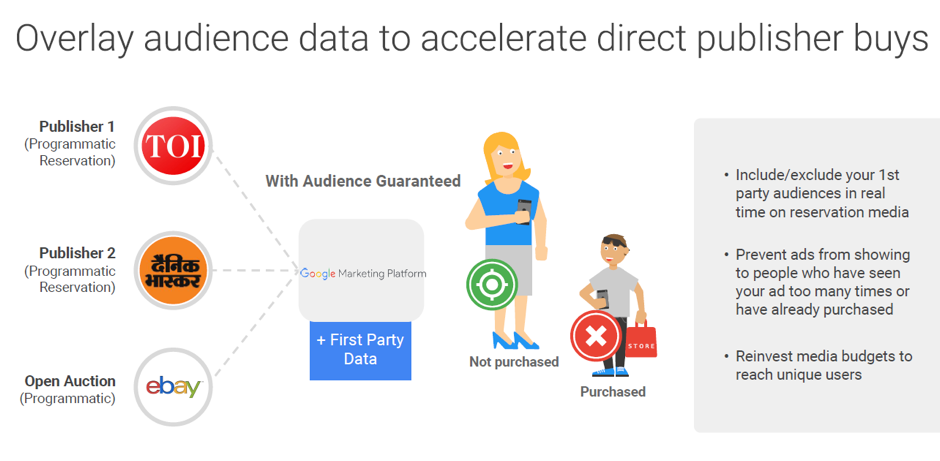 All these features make DoubleClick Bid Manager (now known as Google Display & Video 360) a great marketing platform to explore and invest in. GenY Medium is one of the few agencies with license of DBM (Google Display & Video 360). If you would like to get in touch to explore this further and try out for few of your campaigns, please contact us via the website or get in touch at support@genymedium.com. We would be happy to share more information about the platform.