Opportunities & Pitfalls of 'Flash Sale' Campaigns: Lessons from Flipkart & Snapdeal
Much has been written about Flipkart's 'The Big Billion Day' sale which was followed by Snapdeal's 'Savings Day.' Both presented huge opportunities for not only the brands who were sponsors of these events but also competition who could ride the wave on the sponsor's buck.
Was it worth it?
The direct opportunity for the brand running these campaigns is to get a huge spike in sales. Flipkart's blitz saw $100 million worth transactions done on its marketplace. The reported run-rate of Flipkart's sale as on September 2014 was $3 billion per annum, translating to approximately $8 million per day. Therefore, the campaign saw the sales spike 25x! On face value, the campaign was definitely worth it.
Similarly, Snapdeal's much talked about 'Savings Day 11/11' saw an upsurge in terms of site visits. Again, on face value the campaign did yield results, though one can only guess whether it yielded a positive ROI considering the high-voltage campaign which would have consumed significant $s.
How did competitors fare in terms of 'riding the wave'?
Snapdeal did succeed in getting noticed during Flipkart's campaign. Through its "Best Savings Guaranteed. Every Day" communication on the 'Big Billion Day', Snapdeal succeeded its ambush strategy. More importantly, it reported a 10-15x growth in number of transactions corresponding to Flipkart's campaign day, a significant increase on someone else's dime!
Impact on online reputation of the campaigns
Our technology on reputation management cum social listening, ReputePro, shows clearly the important insights into how the brands fared during these campaigns:
Snapdeal clearly outsmarted Flipkart in terms of 'riding the wave'. One can see the spike in facebook comments for Snapdeal during the campaign. No such spike was visible on Flipkart's page during Snapdeal's campaign.
The amount of negative comments have spiked much more than positive or neutral comments, both for Flipkart & Snapdeal. Clearly shows that the 'follow-through' on promises was inadequate.
Overall, for both Flipkart & Snapdeal, the negative comments out-number positive and neutral. In relative terms Snapdeal fares better. However, the absolute amount of buzz on Flipkart's page is ~10x, that of Snapdeal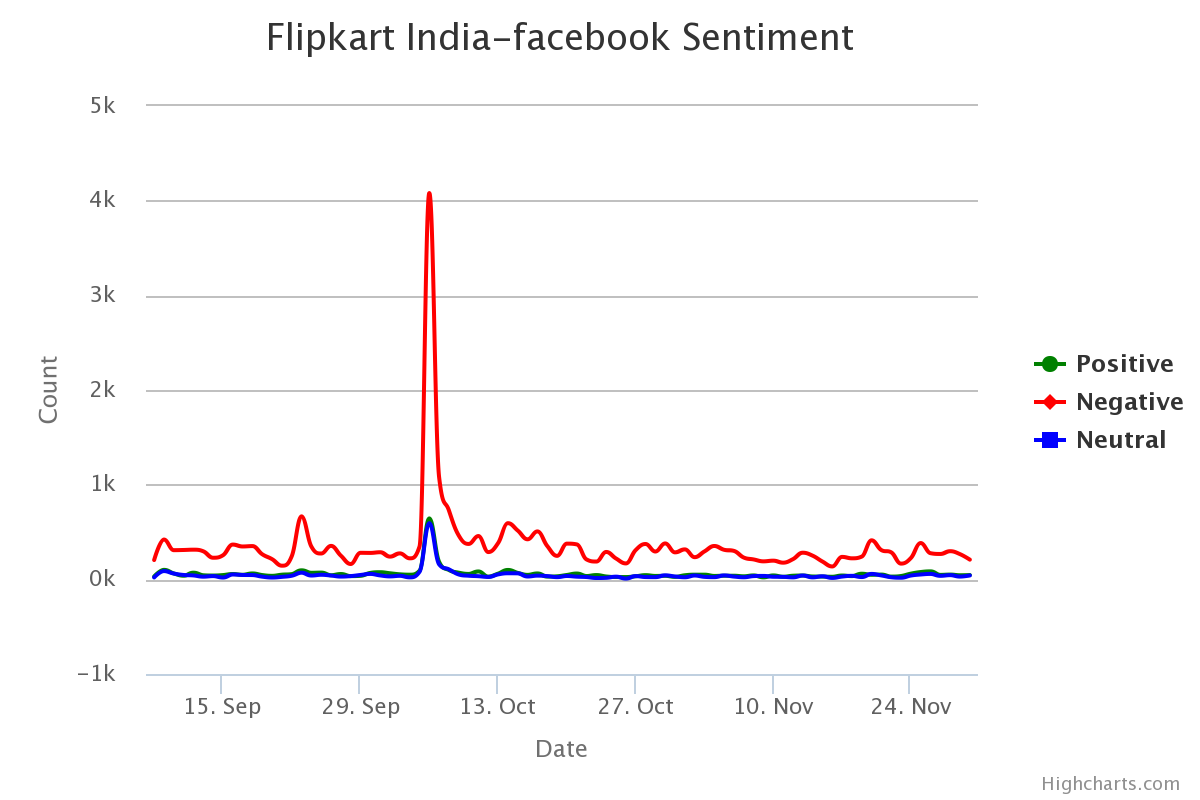 The same sentiments was reported in the news. Flipkart's fiasco was widely talked about (which explains the negative spike). Snapdeal didn't fare any better, and left its consumers high and dry!
So are such high voltage, flash sale campaigns worth it, overall?
It might have been a pure win had the servers fared better, the inventory been higher and the delivery & customer service been more robust. At the moment, there seems to have been significant collateral damage on online reputation of the brands, souring the taste for the brand as well as consumers.
Great brands are the ones who don't repeat the same mistakes twice. We look forward to analyzing the sentiment in their next flash sale campaign and hope to see pure wins, better capture of opportunity by competitors and an overall win for the growing e-commerce industry in India!