Times Square: Will the Marketing Wonderland Stand the Test of Time?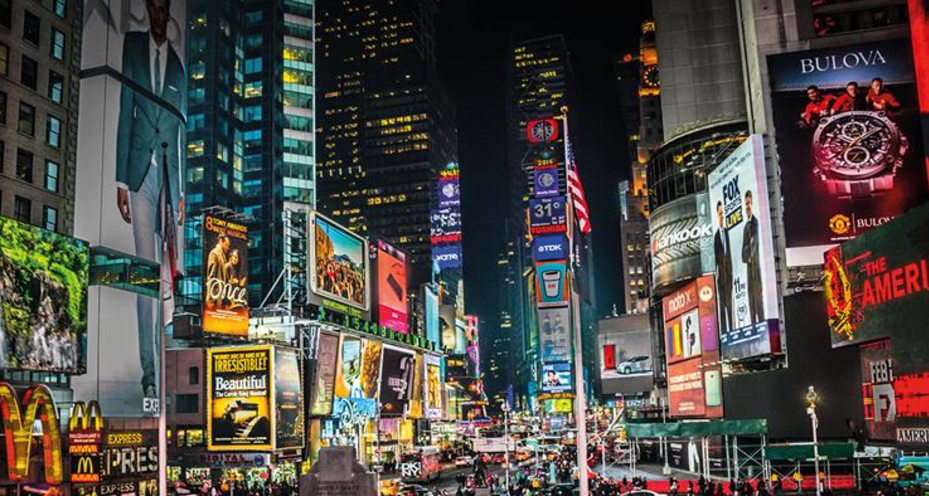 One glimpse of the Times Square and you know you have landed in what's also known as the advertising Mecca. Located at the intersection of Broadway and Seventh avenue, it has been known to take brands to new heights, both literally and metaphorically. Of course, such highs don't come cheap, and that makes its billboards the most expensive ones in the entire world. The flashy neon billboards cost as high as 4 million dollars for a year, generating in excess of 60 million dollars in revenue. These have been highly regarded by brands and advertisers for decades. A colossal accumulation of handcrafted neon signs, computer controlled LEDs and giant video screens; Times Square has also exhibited minor works of commercial art lately, with the steam (much like smoke) emitting Camel cigarette sign and the bubble spouting Super-Suds detergent ad making the cut.
But the question remains, if it's worth investing such exorbitant sums to advertise at Times Square. Almost 3,60,000 pedestrians pass through Times Square every day and the figure rises higher if you add the ones riding in vehicles, up to 5,00,000. The impressions rise further if we take into account the number of incidental appearances it gets in movies and TV shows, not to forget the more-than-a-million people who gather to watch the ball drop on New year's eve. Some more math gives us the advertising ROI estimate at Times Square to be around 1.7 cents per impression. And you know what's next, yes, a direct comparison vis-a-vis the digital counterparts. With Google Adwords the average cost per impression comes out to be around 0.4 cents per impression, which may lead you to think that digital wins hands down. But, no, it's NOT that simple.
Digital vs mainline is certainly one of the hotter boardroom topics when it comes to marketing, and it all boils down to a marketer's objectives and his ingenuity in allocating marketing budgets. Now let's delve deeper, one thing at a time.
Presence at PoP
Let's imagine a situation where you run out of recharge while you are in a market and have no access to mobile internet. Now what'll be your first reaction: naturally enough, you're going to look around the market eagerly for a banner of your network provider atop the shops in your vicinity. This is one of those situations where your eyeballs make an attempt to reach out to the marketer's signage rather than the other way round. Similarly, in a real life example, the hotel chain Red Roof Inn and 360i ran a location-based mobile search campaign which targeted people stranded at the airport due to canceled flights with a direct headline 'Stranded at the airport?' resulting in a 60 percent increase in last minute bookings.
As you can see, it's the clever placement of the ad on the right medium that led to direct sales in both the situations above. No amount of the mobile network provider's web banners or high budget Red Roof Inn's TVCs could have translated into the same result. We can also infer again that the purpose plays a big role in determining the media spends of a brand, particularly when the task at hand is generating sales or converting leads.
Brand Building at Large
Have you ever wondered why Pepsico makes the effort of signing top cricket personalities every year and goes the extra mile in being the official beverage and snack partner of major ICC tournaments? The answer lies in the basics of sponsorship in marketing, that is to make its presence felt as a brand that resonates with the youthfulness of a major sports event. Simply speaking, it needs to take care of its brand image, and make conscious efforts of as many such recalls as possible, hoping to achieve a growth in sales over the years. Now, coming back to Times Square, Toshiba pays an annual rent of 3.5 million dollars to have its signage on One Times Square, and certainly doesn't expect to be paid off for that, then and there. However, it certainly hopes to capture consumers' mind space by forming the backdrop of one of the most happening places — full of Broadway show billboards — think about brand association here!
Its counterpart in digital marketing can be found somewhere in social media. Because social media captures the emotional and cultural quotient of people to the core, and more importantly marketers have an open access to that. The evolution of social media has largely changed the face of advertising in terms of engagement over unidirectional messaging. There are hashtags, contests, utility content and various other ways in which a brand can strike two-way conversations while reinforcing their brand value. In fact, the association of brands with top Youtube channels like ||Superwoman|| for content marketing makes it analogous to being the title sponsor of the TV show. Getting the drift?
By now, we have a fair idea of why the choice of investing in an expensive ATL (above the line) medium like Times Square is not a very straightforward one these days. We also know that digital media offers many alternatives to achieve the same objective. Add data and analytics to the mix, and your plan of action can be simplified even further on digital. Let's just take a look at how simplified it can get, and what has the digital evolution got in store for us.
Personalization
Personalization of ads on social media platforms like Facebook has reached a level where you can be targeted based upon the corner of the world where your 10-year old son is living, upon your reading habits, remuneration and even relationship status. You may already have seen the same ad banner stalking you on various websites, and it's not just web banners, Coke used geofencing technology brilliantly to do interactive billboards that greeted passers-by on a highway.
Brands like Google have already set benchmarks through data at their disposal to predict our next move by tracking our online behaviour, location etc. And it remains to be seen how interpersonal brands will get in the time to come.
Automation
As much as the evolution of big data has facilitated marketers, tracking a large amount of data becomes a big hassle. This is where marketing automation comes into play, simplifying the task manifold. There are a bunch of CRM softwares available to segment your audience into categories, which are then further used for personalized communication. Same is the case with email marketing tools that automate messages by gauging the behaviour of users. This also gives the marketer more creative freedom by providing them with richer, more insightful data.
While there are a variety of automation options available on email, website, social media etc., the future of automation might see the sales and marketing professionals waging a war against automated sales bots. Remember Matrix?
Internet of Things
What do you think differentiates science from art? If you ask me, it is the very ability of art to imagine what the near future would be like, while science may go ahead and make it real in the not-so-near future. Be it the gadgets of James Bond or supercomputers in Avengers, IoT has the potential to make everything possible. Simply speaking, IoT refers to the connectivity of everyday objects to the internet using embedded sensors, making way for a more connected life in every respect. The amalgam of data with such connectivity will give birth to algorithms that can transform the world to such an extent that you won't need driving licenses anymore. You know why? Because you would not be driving at all, courtesy of the IoT enabled car which drives itself and responds to the traffic on road. Not just that, the number of accidents would reduce drastically.
When it comes to marketing, IoT can build a seamless channel between the consumer and the brand. So much so, that the users will have availed themselves of a product/service before realising its need themselves. Believe Business Insider and the number of devices connected to IoT is set to triple by 2020, just in case you thought it was too fictional!
Coming back to the coveted media space at Times Square, we may not see the prices dipping significantly anytime soon. But one may argue that in the near future, it's going to appeal more to a brand that prefers hedonic well being over utilitarianism. After all, it's in Manhattan, the place that has seen advertising at its prime, representing prestige and well… of course glamour.
Contributed by Shivam K., GenY Medium